Galling is a form of wear that can occur when two surfaces slide along one another. While galling can occur on any surface contacts with sliding motion, it is most commonly considered on threaded components.
The relative motion between the surfaces creates friction and shear stress that results in pieces from the microscopic structure of the surfaces to break off. In threads, this damage results in increased pressure between the surfaces and causes even more friction and wear.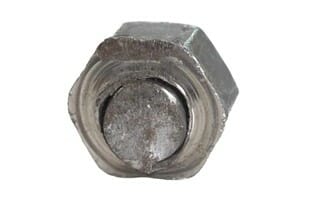 Eventually, if threads begin galling and continue to slide against one another, the materials can fuse and bind together. This is also known as adhesive wear or cold welding. Once threads begin galling, they typically get worse and can ultimately seize.  
What cases galling in threads?
Excess friction!  When two materials are sliding against each other with enough friction it can cause adhesive wear. Asperities, or "peaks" on the microscopic structure of the surface, bear much of the force between the surfaces. Because of this, they can be broken off and even begin cold welding to the opposing surface. 
For some materials such as stainless steel and aluminum, friction between threads results in wear of the material's oxide layer (a protective outer layer) which exposes its more reactive layer underneath. The reactive layer is then more prone to cold welding.
What factors influence galling?
Galling occurs during the installation and removal of threaded fasteners. As threaded surfaces rub against each other they are susceptible to wear and cold welding, especially when significant force is involved. This can cause components to seize, break, and lead to costly downtime.
How do you prevent galling & seizing?
What should I use as an anti galling coating?
Dicronite® (tungsten disulfide ws2) has been widely used as an anti-galling/anti-seize coating for 65+ years; giving engineers and technicians confidence that components within their often-complex mechanical systems won't seize. Dicronite® can help eliminate galling on all metals and most plastics.
The Dicronite® dry film lubricant helps eliminate galling and seizing by minimizing the friction between surfaces. By functioning as a lubricant between mating threads, surface damage is eliminated, and the risk of seizing is removed.
Why Should I use Dicronite®?
Dicronite® is the trusted anti-galling coating and has helped reduce friction and prevent seizing for 65+ years. Avoid the frustration and costly down time of galling components. Trust that your components won't freeze up and break during installation or removal. Speak with one of our experts today. 
Join countless engineers who use Dicronite® to prevent galling.
Not quite ready for a quote?