WS2 Coating Process | How to Buy Dicronite®
If you have received an order or RFQ for a part that requires the application of Dicronite® DL-5®, tungsten disulfide, or WS2 coating, you may be wondering, "How do I buy Dicronite®?" or "Can I apply Dicronite® or WS2 myself?" When searching for a tungsten disulfide (WS2) coating, it's important to know application of the coating by impingement, or high velocity spray, is typically your best option. This process and resulting coating, specified under SAE-AMS2530, is best provided by a licensed Dicronite® facility.
Getting parts coated with Dicronite® is easy! The following steps break down the process:
Submit an RFQ with information about your order and requirements
Receive pricing and submit your PO
Ship parts to the designated Dicronite® facility
Receive your Dicronite® coated parts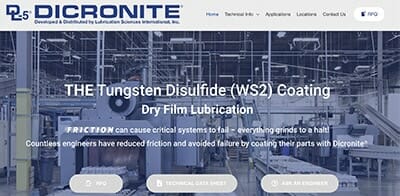 Ready to order Dicronite® coating service? We've laid out all the information needed to make sure you receive the right service from the right location. Access our online RFQ form to get started. Go to www.Dicronite.com and select one of the RFQ buttons.
The RFQ drop down requires only your basic contact information in order to request a quote.
Any additional information we request helps us to connect you with the right facility the first time.
After submitting your request, you will immediately receive an email confirming the receipt of your information. Within 1 business day, you will receive an introduction to the application facility who will quote your project. If you have an urgent request, please let us know in your request.
Often times, NDA's are signed and conversations ensue about the particular needs of your application. Once the RFQ is accepted, customers send a PO and their parts directly to the application facility for coating. It's as simple as that!
Please consider the following when purchasing Dicronite® coating services:
Where are the parts coming from?
Licensed Dicronite® facilities are located worldwide! Based on your requirements and preferences, we will connect you with the one that meets your needs.
Do you require any quality certifications?
Nadcap, AS9100/ISO9001, and ITAR accredited locations are available. Note that requirements for certifications will influence what locations can provide you service.
Do the parts require masking, special handling, or special processing?
Parts with regions that are not allowed to be coated require masking resulting in higher cost for coating service. In addition, parts with special handling or processing requirements may also cost more to be coated.
Some frequently asked questions about getting Dicronite® coating service include:
Can you send me some Dicronite®?
The Dicronite® coating is provided as a service conducted by licensed Dicronite® facilities. This ensures you receive only the highest quality. Raw coating material is not sold.
How much does the Dicronite® coating service cost?
Each Dicronite® facility is independently owned and operated. This means that each facility generates independent quotes. Submit an RFQ to get pricing.
What is the standard lead time?
Each Dicronite® facility will provide its own lead time when issuing a quote. Many Dicronite® facilities offer options to expedite your order.
My drawing requires a WS2 coating. Does Dicronite® satisfy this requirement?
Yes. Dicronite® is processed to the AMS2530 specification for tungsten disulfide (WS2). While Dicronite® meets the generic tungsten disulfide, WS2, and/or AMS2530 requirement, please note that the Dicronite® DL-5® specification cannot be met by generic WS2 coatings. If you have a drawing that requires Dicronite®, you must have your parts coated by one of our licensed facilities.
Can you passivate my parts before coating with Dicronite®?
Yes. Our Southern California facility offers passivation services.
Still have questions about purchasing Dicronite®? Email us at [email protected] or call us at 1-800-874-4319.