Dry Lubrication for the Food Processing Industry
Use Dicronite® to minimize equipment jams, increase production rates, and improve efficiency of food packaging equipment.
Engineers use Dicronite® when:
Precision tolerances or sealing must be maintained

High or low temperatures limit the use of other lubricants

Optimal performance is needed

Power output of an assembly is being robbed by friction losses

Friction is creating too much resistance in the motion of an assembly 

Sliding wear is limiting component lifetime

There is galling and seizing of threaded components
Common food processing components that use Dicronite® include but are not limited to:
Actuators

Bearings

Bushings

Discs

Electrical Connectors  

Fasteners

Gears

Pins

Plates

Rods

Shafts

Threads

Valves

Washers 
Benefits of using Dicronite® dry lubrication include: 
Increased efficiency of food packaging equipment to minimize equipment jams and increase production rates 

biocompatibility. View ISO-10333

Seaming and forming equipment to minimize wear and increase preventative maintenance intervals

Extend component lifetime and decrease the need for maintenance 

Increase mechanical efficiency for more power output  

0.5 micron thickness won't interfere with tolerances  

Lubricant in extreme temperatures (-188° C to +538° C) 

Dicronite® is compatible with greases and oils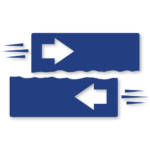 Dicronite® dry lubrication's biocompatibility per ISO-10993, FDA repeat use, and USDA incidental contact approvals have lead to its use in the food processing industry. Due to its high-temperature stability (+538°C), Dicronite® dry lubrication is commonly used in oven and baking related applications.
Most frequent questions and answers