Why waste time on friction-related component failures, lost production, or inefficiencies? AVOID:
Send or deliver your parts to one of 12 convenient locations
Receive your expertly coated parts with little lead time
Using annotations, note surfaces where the Dicronite® coating is required
Using annotations, note surfaces where no coating is allowed (unless indicated, overspray may occur)
In the drawing notes, reference your annotations and callout "Apply Dicronite® DL-5®" (add "per specification" if applicable)
When you place your Dicronite® coated parts into service, you will be amazed at the difference Dicronite® makes!  The best case scenario will become your reality.  The ultra thin, .5 microns thick coating will have molecularly bonded with your part's surface.  Performance will dramatically improve with the reduction in friction; even the tightest tolerances in extreme environments will be effectively lubricated.  DL-5® processing does not use binders or heat, meeting all the requirements for the SAE AMS 2530 specification, "TUNGSTEN DISULFIDE COATING, THIN LUBRICATING FILM, BINDER-LESS, IMPINGEMENT APPLIED".  (AMS2530 supersedes DOD-L-85645)"
Our experts are ready to coat your:
Dicronite® DL-5® reduces friction and eliminates galling so your system operates the way it was designed.
It has been the premium dry lube for over 55 years and yet remains the dominant leader in the solid lubricant market.  Industry leaders continue to trust this branded tungsten disulfide to lubricate all kinds of parts used in all kinds of industry.  Today, Dicronite® DL-5® is trusted to effectively lubricate valves, connectors, fasteners, couplers, flanges, roller bearings, linear and rotational actuators, deployment devices, pins, bushings, mold  surfaces, fluid pump components, gears, camshafts, crankshafts, drivetrain components, vacuum pump components, and many undisclosed applications that help our customers foster a competitive edge in their respective markets.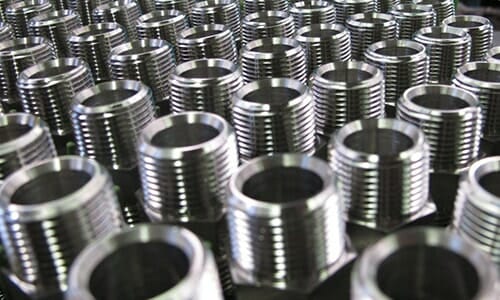 The list of Dicronite® applications grows more every day as customers apply our dry lube technology to things like military helicopters, artificial hip joints, race car bearings, injection molds, and exploratory spacecraft. Rest assured, DL-5® will deliver the same reliable results to your project.  The Dicronite® coating is very thin, very slick, and very reliable. With its dynamic CoF between 0.020-0.090, coating parts with Dicronite® eliminates galling, reduces wear, and improves performance. Because precise tolerances are not compromised, you can add it to existing designs, saving you even more time and money.
You may be one of the many engineers who are challenged with lubricating systems required to operate for extended periods in extreme temperature ranges (cryogenic temps to +538C°) or under hard vacuum conditions. If so, you will appreciate that Dicronite® remains stable in these demanding environments. It is applied at ambient temperatures, generally inert, unaffected by oils and solvents, and allows you to use it as a co-lubricant which extends the life of traditional oils and greases as well as service intervals.
When you cannot afford failure, you can afford nothing other than Dicronite® DL-5®. Submit your design today to discover the Dicronite® difference for yourself!
Recent Dicronite® Certifications